Bluelight has a special in-game currency called
$KALE
which is a cross chain token.
Players earn and spend $KALE tokens in the game and on the official game marketplace.
$KALE
is a cross-chain ERC-20 / BEP-20 fungible token. Token will be issued on the Ethereum blockchain but can be easily transferred to BNB Chain.
The main gameplay and token spend / earnings will take place on BNB blockchain. This gives a lot of benefits to players, including fast cheap transactions, accessibility and stability.
When the token is being moved from one chain to another using a teleport mechanism, smart contracts will make sure that the total circulating amount of tokens across all chains will remain the same.
Game's smart contracts are open sourced and will be available on the official github repository.
The maximum supply of tokens will not exceed 10,000,000,000 $KALE which are planned to be allocated and released on a predetermined schedule according to the following table:
Player rewards
tokens will start being issued in eual portions over the period of 60 months and will be distributed to players as they progress the game. Also, a portion of this pool will be used for staking rewards available later.
Foundation
tokens will be released with an equal amount each month over the period of 60 months. These tokens will be used to support the community and the ecosystem, offering grants to create high quality in-game content and applied products.
Team and founders
' tokens will be released gradually with an equal amount each month, over the period of 60 months. These tokens will be used to incentivise the development team and key personnel.
Marketing
tokens will be released with an equal amount each month over the period of 24 months. Marketing funds will be spent on influencers and promotional activities around the web to bring players on board the new game.
Liquidity pool
tokens will be issued on day one and will provide token liquidity on various DEX exchanges. Profits of the sale will be used to buy backs and support of token liquidity across all chains.
Advisors
' tokens will be released over the period of 12 months and will be reserved to reward top advisors that help with strategic development and plan the game's economics.
$KALE token is a default in-game currency. Players earn their bonuses in $KALE, and can spend $KALE on various improvements to progress in the game. Where needed, $KALE is also used as a payment for transaction fees.
$KALE token is also used on an official marketplace.
Players can hold, trade, or exchange $KALE on a third party crypto exchanges at any time. Please see below for official recommendations of bridges and exchanges.
This chart displays how tokenomics work in the Bluelight game.​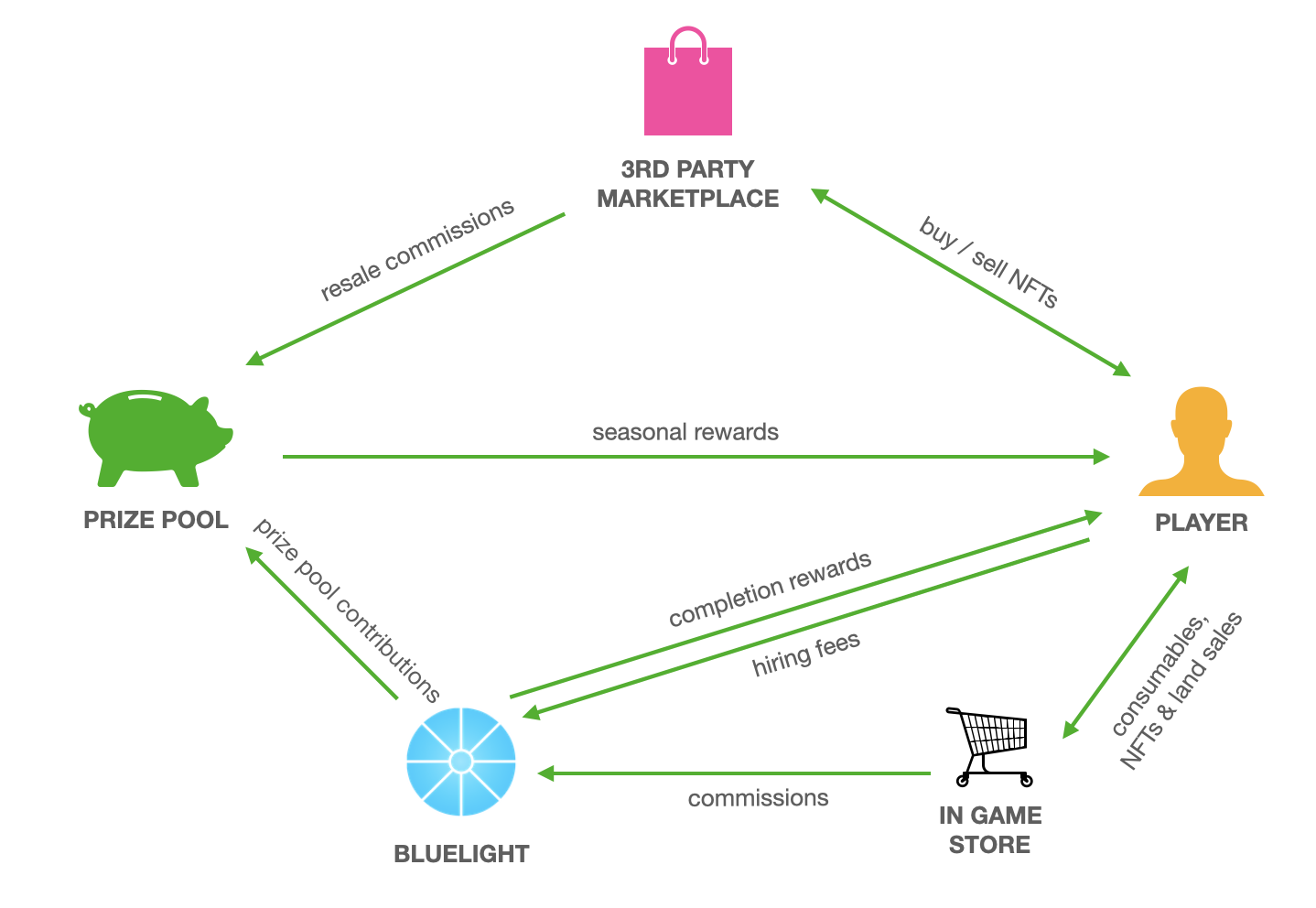 Being a cross chain token, $KALE can be moved between two major chains: BNB Chain and Ethereum. To move a token, the holder should use an official teleport mechanism located at
https://teleport.bluelight.inc
.
Other options may be available in the future and will be announced at all available official channels. There may be third party's options available, but we recommend to double check and do your own research before use and make sure you trust them as we can't guarantee they will work properly.